Project title: Stormwater Capture and Reuse on RMIT University City Campus
Project aim: To provide an understanding of stormwater across the RMIT University City campus and make recommendations to improve RMIT's adaptation responses to climate change using Water Sensitive Urban Design (WSUD) to promote capture and reuse. Site surveys of RMIT City Campus will be undertaken to detemine the permeability of the campus and a storm water model will be developed.
Industry partner: RMIT University Property Services Group
RMIT Property Services Group (PSG) is responsible for managing the University's portfolio of properties, valued at $1 billion and encompassing 131 buildings across all of RMIT's campuses and sites. The University's land holding is 75.4 ha (186.3175 acres). Part of the Resources portfolio and based on the City campus, Property Services is responsible for operating, maintaining and enhancing all RMIT-owned buildings across RMIT's onshore campuses (City, Bundoora and Brunswick). Property Services is focused on providing quality and sustainable built environments to support all of RMIT University's activities.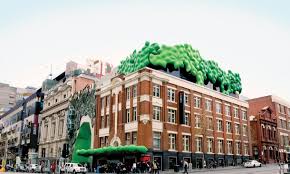 Image: © RMIT University, 2018